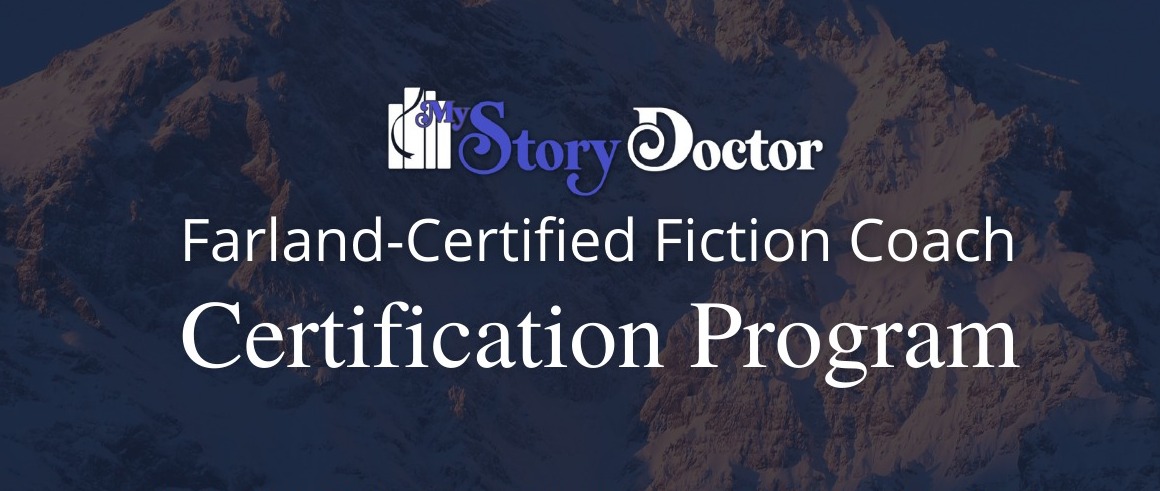 Becoming a Farland-Certified Fiction Coach

Certification Program
In Phase 1: Mastering the Farland Method, we're going to personally work with you to master David Farland's Fiction writing methodology, so you have an in-depth, and exclusive grasp of his writing philosophy – from start to finish.
This'll include everything from deeply understanding the brainstorming process…
To perfecting a plotline, and implementing the power of setting…
From bringing characters to life, developing conflict, honing tone, voice, and style…
All the way though hypnotizing a reader, to publishing, going 'Hollywood', and beyond.
During Phase 2: Cracking the Coaching Code, we'll help you develop and hone your skills as a transformational guide, making you into an effective, efficient, and lifechanging 'facilitator' of the fiction process.
This is where we'll show you how to nurture a writer throughout the creative process…
Reveal how to identify and knock down your clients' creative blocks…
And conquer and gain control over your own mental fortitude, so you can be the creative leader you've dreamed of being.
In Phase 3: Marketing Mastery, we'll be bringing on a multi-million-dollar marketer and copywriter to help you prepare for the marketplace and navigate the client-getting process.
We'll be going deep on mastering organic marketing…
The 'simple' path to getting your coaching business to 6-figures and beyond…
And how to find, reach, close, and onboard coaching clients in a non-salesy, "pitch-free" environment.
Lastly, we'll set goals and keep you accountable throughout the entire process, so there's no guesswork or feeling "lost in the weeds" on your part!
If this sounds like something you'd be interested in, here's how we'll pull all that off:
1. 6 Weeks of Methodology & Philosophy Mastery
We'll be giving you access to curated content designed to fast track your way to becoming a master of the 'Farland Method':
Then, we'll be providing you with the opportunity to showcase your understanding in a low-stress (but 'real world') environment.
2. 12 x Mindset & Coaching Lectures + Working Sessions
During your time "Mastering the Farland Method" we'll be meeting every week for a series of live trainings designed to transform you into the ultimate Fiction Book Coach.
We'll spend the first bit of each session giving you exactly what you need to know to begin the implementation of our goals together.
And after the lecture portion, we'll set aside time together on the call to actually work on the stuff we've talked about.
This way, we overcome procrastination and ensure we actually get this done.
3. Feedback + Q&A
After each work session, we'll personally review your completed work and give you the feedback and guidance only we can give.
Additionally, we'll set aside time for you to get on the call and answer your questions related to what we're trying to accomplish together.
4. Access to all of the training programs David's ever created
There are literally hundreds of hours of recorded content and courses (both published and never-before-revealed to the public) available to you once you become a member of the program.
These will be invaluable as you can take them and review them any time you want to further hone and develop your skill as a fiction coach for years to come.
5. FREE Access to all future 'Farland School for Fiction' training programs
To make sure you have ongoing resources once the program is over, we'll be supplying you with unfettered access to all future training programs created and released by The David Farland School for Fiction.
The price for this certification is $9997, or 2 payments of $4,999 (due 30 days apart)…
And we officially start July 7th, 2023.
This is a first come, first serve enrollment – and the registration forms will be sent out tomorrow.
If you'd like me to hold you a spot, just hit reply and let me know you're 100% interested, and I'll make sure to put you on the priority mailing.
Happy to answer any questions you might have.
Thanks,
David Farland's Team
During this 12-week program you'll be working directly with us as we guide you through David Farland's methodology, and mastering what it takes to be one the most sought-after fiction mentors in the marketplace.  
What we're looking for:
·        You already have a book coaching business AND/OR have published a fiction novel using some or all of David Farland's methodologies…
·        You are coachable and have a sincere and genuine desire to help people achieve their dreams of becoming published fiction authors…
·        You enjoy sharing what you're good at with others and are willing to advance your knowledge and skillset to get and deliver better results…
·        You have an openness to a new way of helping people, and want to be as successful as possible through guiding others to achieving their goals…
If that's you, here's what we'll be doing during our time together:
·        First, you'll be working to "Master the Farland Method" of fiction writing – and gaining a deep and thorough understanding of David Farland's process of how to take a book idea, flesh it out, and take it across the publishing finish line…
·        Then, we'll be helping you to "Crack the Coaching Code", where you'll master the art and science of guiding your clients through the writing process from start to finish – and how to identify and clear the blocks that take the off course…
·        Finally, we'll dive deep into "Marketing Mastery", and unveil a wide array of marketing strategies and tactics, how to implement them, and what to do to fill your calendar with quality clients that are eager to book your services…
·        PLUS – for a select few, you'll even be given the opportunity to work alongside us, helping our community achieve their dreams of becoming a successfully published fiction author.